How to Sell Vectors on Shutterstock to easily Generate $117 a Month
Shutterstock has the largest collection of stock photos in the world. Thousands of contributors upload their work on Shutterstock daily, and thousands of people search on Google about how to sell vectors on Shutterstock. Although Shutterstock is number one in the stock photo market, millions of vectors are also purchased by people on Shutterstock, and thousands of contributors regularly upload vectors and earn money. Therefore, many people want to learn how to sell vectors on Shutterstock because they can earn a handsome monthly income by selling their vector arts on Shutterstock.
While many people want to sell their photography skills on Shutterstock, they may not be able to afford expensive cameras to capture stock photos. However, they may have a great skill to create vectors and illustrations on the computer. These types of people can create unique and beautiful vector art that is also in demand.
So, don't think that you cannot sell your art on Shutterstock if you cannot afford cameras. Here, you will learn how to sell vectors on Shutterstock. Remember, Shutterstock has a mega-collection of vectors and illustrations that is regularly updated by their contributors. Just join Shutterstock as a contributor, create some cool vector arts and illustrations, upload them on Shutterstock, and when anyone buys them, you will get your money.
Isn't it simple? Follow these four simple steps to learn how to sell vectors on Shutterstock:
Create some cool vector art.
Sign up on Shutterstock contributor page.
Upload your awesome work on Shutterstock.
Wait for your first sale and earn money.
The best thing about it is that you can create your vectors in your bedroom at whatever time you like. You don't have to worry about finding clients, no office, no boss, no deadline, and no fixed working hours. However, don't think that you can earn a handsome income without doing much hard work. Although there are no clients with deadlines, you have to create your own deadline. You should upload your content on a daily basis for at least six months, which can be the hardest time for new Shutterstock contributors. About 60% of contributors on Shutterstock do not remain active after uploading some of their work, and about 90% of new contractors do not survive their first six months.
If you really want a good withdrawal from Shutterstock, you have to upload at least one quality vector art every day for at least six months. If you are uploading stock photos on Shutterstock, you have to upload a minimum of two to three photos on a daily basis for six months. After the first six months, you can change your frequency and give yourself some rest for a few days.
WHY THE FIRST 6 MONTHS ARE IMPORTANT

Here you are learning how to sell vectors on Shutterstock? so you have to learn first how the Shutterstock search algorithm works? Shutterstock search algorithm works the same as Instagram and Facebook. Where your newest uploaded work will show to buyers immediately, and if they like your stuff and download it, Shutterstock will show it again to another buyer with the same keyword search. And if Shutterstock shows your work in search queries and people don't download it, Shutterstock will put it to the back of pages.
 So the first six months 
 

will give you an idea about your niche you created your work. If you didn't get any sale after 20-30 days of accepting your files on Shutterstock. Just change your niche and create your vector on different niche. (Sometimes, your niche can be download on specific days, like you can not receive any downloads of Christmas vectors in June month, but can get good downloads in December)
can increase your vector's visibility in search queries, because the Shutterstock algorithm will think that you are a regular activate contributor, and so you can give their customers new works on a daily basis. 
can increase your stuff on Shutterstock, because millions of stock vectors are already uploaded on Shutterstock, and your 20-30 vectors are nothing in it. So if you will upload daily for six months, you will upload 180 vectors, which is still nothing, but enough for new contributors to get some daily sales. 
you will get the habit of making and uploading vectors. So after 6 months, you can continue your work easily.
So now, as you already have learned about the first important six months for your earning journey on Shutterstock. So, don't run for many pieces of information, just start your Shutterstock account and upload your awesome work.
1. SIGNUP ON SHUTTERSTOCK AS A CONTRIBUTOR
Regestering yourself as a contributor on Shutterstock is not much difficult. You have to first land on Shutterstock Contributor Sign up Page. This page is looks like something this. We are answers completely at here of your question of how to sell vectors on Shutterstock?
If you're the first time on the Shutterstock contributor page, you have to click on Create an Account and then you have to create your new account by filling your details like  Full Name, Display Name, Email address and passwords. 
After creating your contributor account on Shutterstock, you will see the page where you have to fill up about your address. 
After updating your address, you're ready to upload your work. You can directly upload your work by clicking on Upload Images or you can go to the dashboard.
The dashboard will look like this, where you can upload your best work by clicking on upload images. You can see your earnings, your total downloads or sales, your profile. 
I also have a contributor account on Shutterstock, mine dashboard is looking like this. Where my all earning is from subscriptions. Subscriptions are when the customers on Shutterstock have monthly subscription plans and who are download your images, will be count as subscriptions. If your images are downloading in under subscriptions plans, you will get 0.25 cents per download, this will increase after you reach some milestones.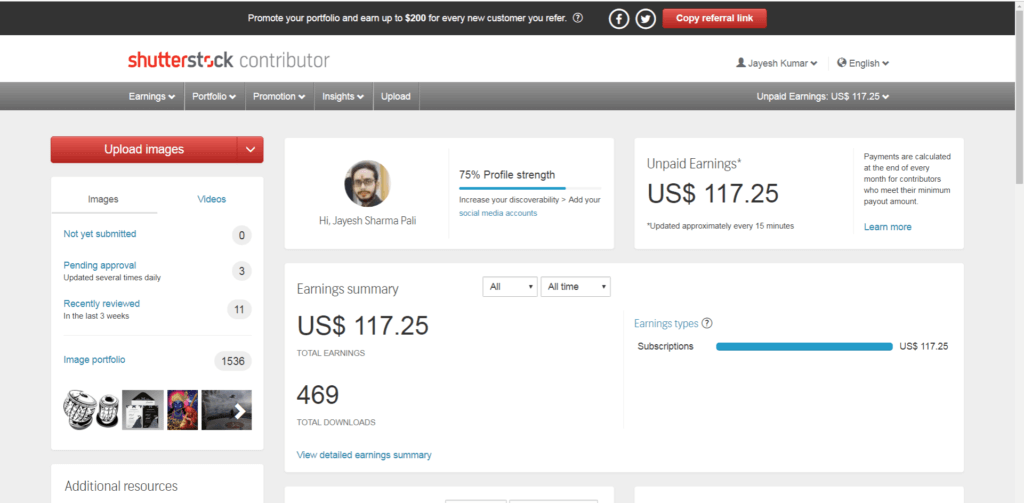 This post is the answer to how to sell vectors on Shutterstock? But before selling vectors you have to first upload them on Shutterstock. Uploading is easy, but if you did not do it properly, your vectors will be rejected by Shutterstock. 
You're on the second step in learning how to sell vectors on Shutterstock? Understand that, While other stock vector sites when will accept your account then you can be a contributor on their website, Shutterstock didn't take it seriously to accept your account. They will just review your vectors, and if they are fine, they will accept otherwise your submission will be rejected, also, on Shutterstock, there's no ordeal to upload first time at least 10, 20 or 30 images, here you can upload only one image and if the image is good, will be accepted and will start earning if the image has any commercial value and people will download it. If the image is not getting accepted by Shutterstock, you can upload another image and can wait to accept that.
Keep in mind before uploading vectors to bypass the rejection : 
Shutterstock doesn't care about the commercial value of the image, so don't think much about it that if your image has any commercial value and if not, Shutterstock will reject it. If your images don't have any commercial value, but well created, Shutterstock will accept it, whether it will sell or not. 
Shutterstock can only reject images if they're not properly made as per their rules and regulations. So be careful about the image that you uploading is created as per the Shutterstock rules and regulations. 
Don't upload someone's copyright work. This is strictly prohibited that if you're trying to upload vectors of someone else, this will be surely rejected. So make your own work and upload it on Shutterstock.
You know, many contributors are maintaining 100% accept rates. You know how? To sell vectors on Shutterstock, you have to be conscious about the rejection when you are creating your awesome work. If you can maintain fewer rejections on your uploads,  you can save your time, also, the first time accepted files can increase self-confidence. So be aware of every reason for rejections.
Create your work which can familiar with EPS 10. So when you are on the way of creating the vectors, keep in mind, don't use the tools and effects which are not available in Adobe Illustrator 10. Shutterstock says, that they have a lot of customers, who can't afford the upper versions of Illustrator, so we will available our customers everything that they want. 
HOW TO UPLOAD  AND HOW TO SELL VECTORS ON SHUTTERSTOCK ?
So, you are ready to upload your vector on Shutterstock. The easy steps are here
Save your work in EPS 10
Recheck that all of the text is converted into objects.
Confirm that there's no image in your vector file.
Open the Shutterstock contributor page and sign in with your email and password.
Be sure that your eps file is a minimum of 4 megapixels and not more than 100mb. To check your file size multiply your image length pixels and width pixels, then divide by 10,00,000.
Click on the Upload image on the top of the left corner.
 Now click on select multiple files, or you can drag your files on the page. Wait for uploading them, and then click on next. You're finished the process of uploading vectors. 
See the next steps to learn how to sell vectors on Shutterstock.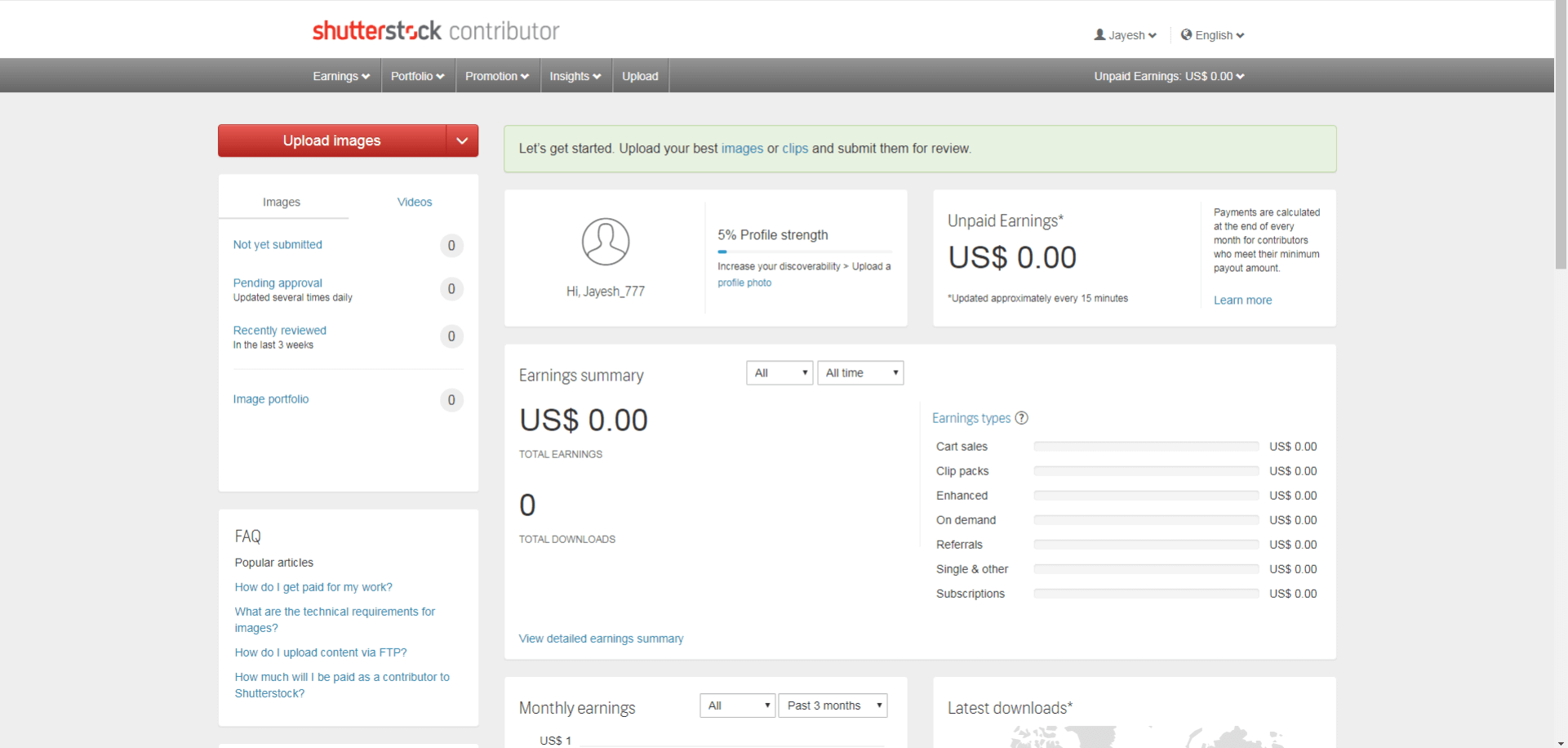 3. KEYWORDS AND DESCRIPTIONS
Keywords and Descriptions have the major role to sell vectors on Shutterstock. If you didn't do give proper keywords and descriptions to your vector file, there probably a lot of chances that your file will not show in the search result.
So you have to be familiar with the principles of how keyword works and what is their role in the search results. 
Shutterstock has a tool to find the keywords from the similar images you are uploading, it can easy your uploading process. 
To learn more about how to do proper keywords to your Shutterstock file, read our other articles. 
The Article Is About How To Sale Vectors On Shutterstock And You Had Already Finished Up The Process To Sale Vectors On Shutterstock.
Now the time is to just wait for your first sales. My first sale was on the second day of uploading the vector. Sometimes it takes weeks for the first sale, so don't think much about it.  Create and upload at least one file daily to grow your account on Shutterstock.  
There are not any secret to get your first sale very fast, because sometimes your first sale can be within 24 hours, but the second sale can take months. 
The secret behind this success is to keep the following points in mind  before uploading your vectors : 
Upload Daily for minimum first 6 months 
Create quality content which is useful for someone,  this is the most important part.
Put your time and effort in the design, because all of the buyers on Shutterstock are self designers, they just buy from it because they didn't have much time to create the stuff themselves, so your effort will help them. 
Keep your eyes on upcoming events, and create your content on the event to get easily sale on the season.
Read the Shutterstock forum regularly to be aware of new terms, read other contributors on the forum to learn from their mistakes. 
This whole post is focused on the keyword How to sale vectors on Shutterstock, and so, you are getting your answer here. If you have anything in your mind to share or ask, you can comment and I will reply to you shortly. 
Selling vectors on Shutterstock is not much difficult, because Vectors are in always demand, you have to be creative enough to create valuable content. Shutterstock is quite costly for buyers, but still there're thousands of buyers are subscribe daily on the site, because here they are getting a lot of high-quality content, so you have to fight the competition with the one weapon 'quality'. 
You can earn thousands and can't earn a single penny, all depend on you how you manage your quality, your quantity and how can you give your best to the world. 
Best of luck for your bright future in the creative world.