Start your blog and earn money from blogging from today.
Making money from blogging is not as easy as you think, but it's not as difficult as people think. The question in your mind is that "How to earn money from blogging?" because you wants to earn money from blogging. But if you're serious about blogging and want to make it your full-time career, first of all, you need is to change your thought process. 
You should not start blogging to only earn money. Because if you start blogging to only earn money, you will be bored too soon, or you will not be able to survive in writing content for a long time. And blogging is a long time journey, sometimes it will take years to start earning money. 
You will find on the internet everywhere that blogging can make you rich, blogging can give you hundreds and thousands of dollars every month. 
No, blogging is not a money-making scheme, but sure, it can make you rich if you're passionate about it. 
Before you start blogging-
So, before telling you things about how to earn money from blogging, I want to clarify here that if you're good at writing, if writing is your passion, you can't get bored in writing your thoughts then you should start blogging. 
And what if you're not? No worry, just make writing your hobbies from today. Start writing things on paper whatever is in your mind.
Blogging is all about convincing people with your words, if you can convince people with your words, you can earn money from it. 
How to earn money from blogging?
This question is the lead actor of this post that how to earn money from blogging, and the answer is there are many ways to earn money from blogging. 
Some of the ways I'm going to discuss are almost every blogger use to monetize his or her blog to earn money, and these ways are here.
But before that, I'm giving you a two-minute cheat sheet.
First, you need an idea to start a blog, then you will need the name of your blog. Think about the topic and then choose something related to the topic you want to write about.
After that, all you need is hosting to host your blog. Sign up for the basic plan with Hostinger, it is an affordable and reliable hosting provider with the cost of a cup of coffee at $1.39/month.
Check Hostinger Offer Price
We are partnered with Hostinger.
For our readers, there is an active offer.
Claim Offer
Now, sign in to your account and install WordPress (It is a one-click install with Hostinger).
WordPress is an open-source content management system, that allows you to create any type of website without writing a single line of code. 
So, if you don't know anything about coding, you should not worry, by using WordPress you can create, design and manage your blog and website easily. 
Now, install a theme, I suggest you buy a premium theme, as themes play a major role in our blogging journey. 
I'm using the GeneratePress premium theme. It is a fast and powerful theme. Know more about GeneratePress Free vs Premium. 
Now, your blog is ready, just write your first blog. 
After publishing few posts, when you've started generating traffic to your blog. Now the time is to monetize your blog to earn for your first dollar. 
There are plenty of ways you can earn money from blogging, it all depends on your niche and how you monetize your blog, how much effort you put in your blog to drive traffic, and how much and how many your posts are going viral. 
Blogging is not all about writing and publishing posts. It's need more in-depth technical knowledge to move your blog upside on Google, to drive huge traffic on your posts. Because without traffic, your blog can't earn a single penny. 
So, if you are starting today writing a blog, you will need to learn some basics about on-page SEO, off-page SEO, backlinks, keywords, keyword research, site speed, domain and page authority and many other things. It all will help you in driving traffic to your site.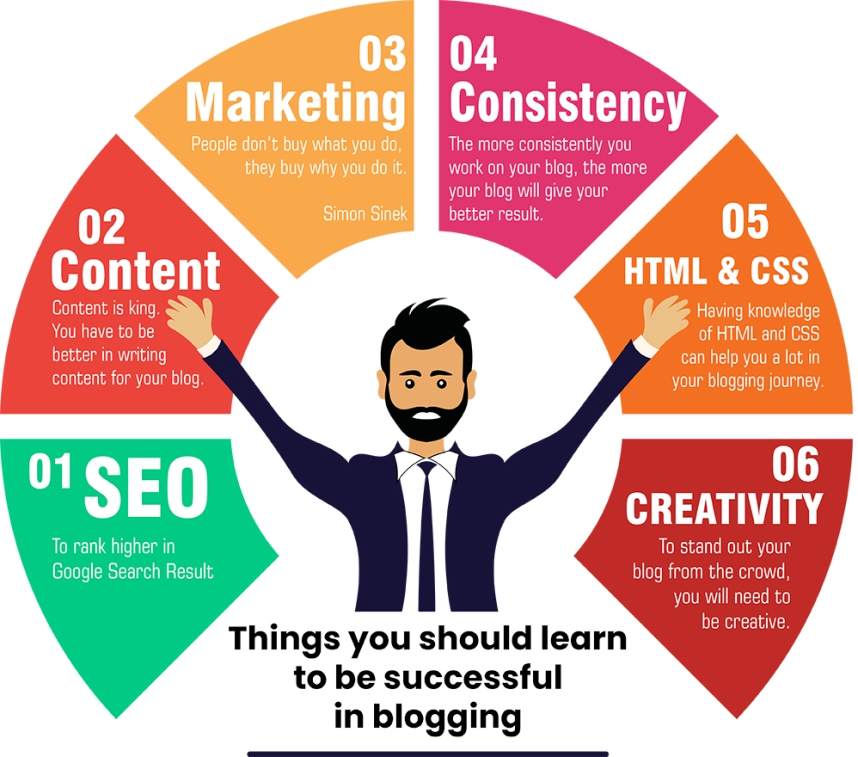 Now, we are talking about how you can earn money from blogging?
So, there're plenty of ways you can make money with blogs. It all depends on your niche and your level of the blog as a blogger. 
Some blogs are earning thousands of dollars by just ad networks because they're getting a huge amount of traffic on their site. Some bloggers are earning thousands of dollars through affiliate marketing with less traffic. 
It's all depends on you that how you're monetizing your blog. 
To start earning money from blogging, there's several online blog business model I'm sharing with you.
ADS Network
Affiliate Marketing
Physical or Digital product selling
Selling Banner and Advertising Space
If you are entering in blogging journey, you may definitely hear about ad networks to monetize your blog. There are many ad networks are available in the market, that you can use to monetize your blog and can earn money. 
The ad network is the best way to monetize your blog and earn money without losing your user experience on your blog. You can make the ad networks your passive income source. 
In this post, we will discuss how you can monetize your blog with ad networks, how much it is difficult to get approved by ad networks and how much money you can earn by placing ads on your network. 
There're plenty of ad networks are available to monetize your blog and earn money from blogging. I'm going to discuss every ad network, also which ad network is most popular and you can use it to earn money from your blog.
Google Adsense is the most advertised network nowadays. Most of the bloggers are using Google Adsense as their ad network to monetize their blogs. Google Adsense is based on CPC based ads network.
The minimum payout threshold is $100, so if you are getting a decent amount of traffic on your blog, you can easily earn $100.
Also, it shows quality ads on your page and also enhances your user experience as well.
But getting approved by Google Adsense is quite difficult, as they have very strict guidelines. So, first, read their guidelines & terms and conditions carefully, then apply to show ads on your blog, you will get approval.
After Google Adsense, Media.net is the second most popular ad network worldwide. Many bloggers are using Media.net as their advertising partner and are earning a decent amount of money from it. 
The minimum payout threshold is also here $100, which you can earn easily with decent traffic. Also, there's no minimum traffic is required to get approval through Media.net advertisements. So, it is a very good alternative to Google Adsense, as many new bloggers prefer this ad network as their advertising partner. 
Media.net is powered by Bing.com and Yahoo.com, so you will get high-quality advertisers here. So, it will also enhance your page and blog with high-quality ads. 
It offers contextual ads of CPM, CPC and CPA programs. 
Now, other than Google Adsense and Media.net, there are many other ad networks are also available that you can also use to monetize your blog to earn money from blogging. 
The other more popular ad networks are:
Affiliate marketing is one of the win-win marketing strategies for bloggers and publishers. Almost every blogger's main source of income is affiliate marketing. 
Affiliate Marketing is one of the most popular ways for monetizing your blog. Because you can earn a huge amount of money by doing affiliate marketing instead of contextual ads. 
You can only earn up to $2 to $3 for a click on contextual ads, like Google Adsense, but you can earn a minimum of $30 per product you sell as an affiliate marketer. 
So, affiliate marketing is a game-changing strategy for bloggers, because if you don't have high traffic on your site, but still you can earn big money from affiliate marketing easily. 
So, before showing you the best affiliate marketing program, I want you to go into a little in-depth that what affiliate marketing is actual?
What is Affiliate Marketing?
Affiliate marketing is a marketing term for a company, who create a digital product, SAAS, courses and programs. 
So, the company want influencers and bloggers to promote their product. Now, when a blogger writes an in-depth post about the product of the company and put a unique link in his blog. When a visitor clicks on the link and visit the site of the company and buy the product, you earn a commission and it is identified your traffic by the unique link the visitor clicks on. 
Best Affiliate Programs to Earn Money From Blogging.
Amazon Associate is the most popular affiliate program under the niche eCommerce. You can pick any product from amazon to promote on your blog and can earn commission up to 1% to 10%, depends on the product's categories. 
These are the current commission rates Amazon offers as per their product categories:
Payment method: Cheque, Amazon Gift Card and Direct Bank Deposit. 
Minimum Amount Qualified for Payout: Amazon only triggers payout after your affiliate earnings reach up to $10.
Cookies Life: 24 hours, if your referred visitor buys the product within 24 hours, only then you can earn a commission, if they added the product in their cart, and buy the product within 90 days, also then you can earn commission)
Shareasale is a marketing and advertising company you can use to find affiliate programs as per your niche to earn money from blogging. 
Shareasale is a well-reputed company in advertising and sales. This company has two customers sets programs, affiliates and merchants. 
It features more than 2500 merchants, that offering variety of services and products. So, you are an affiliate and you have to just find the perfect product or services you can promote on your blog as per your niche. As you make any sale, the merchant will give you the commission as per your referral sales. 
You can check the status of your earning of commission on the Shareasale website.
Etsy is also an online eCommerce marketplace, for artisans, crafters, makers and thrifters. The commission rate on Etsy is 4%, but still, you can make huge profits because of the sales potential, as many sales you make, you will earn more money as a commission. 
Payment model: Direct deposit or cheque. 
Cookie life: 30 days. 
Many other affiliate programs are also available for bloggers. So this is a list of affiliate programs for bloggers.
EBay Partner Network
Affiliate Program
Nord VPN
Express VPN
TunnelBear
Nvidia
Twitch
Alienware
Razer
Leprestore
Origin PC
King Kanine
Just CBD
Skimlinks
WP Engine
GoDaddy
ConvertKit
Shopify
BigCommerce
Adobe
Udemy
Skillshare
Spocket
Podia
Teachable
Kinsta
Bluehost
Cloudways
SiteGround
Dreamhost
A2 Hosting
HostGator
Hostinger
Physical or Digital product selling
Selling digital or physical products online is much profitable nowadays, and also it is very easy to start rather than starting a local shop. 
So, everyone is doing digital and physical product selling online today, and almost everyone is in profit. Then why you're not starting. 
It doesn't mean that you will need to quit your job to start online product selling. 
You can do it along with your job. So that, selling a digital and physical product is the best way to earn money from blogging. 
Yes! Blogging is also important here if you want to sell your products online, and if you write a blog post, your post can rank on Google easily, because the blog helps in SEO. And as much traffic you generate on the blog you can nurture to buy your products. 
So, if you want to earn money from blogging, selling physical or digital products online is also another way you can make money online. 
How to sell digital or physical products online?
There are plenty of ways, you can sell your products online. You can join online eCommerce platforms like Amazon, Flipkart and eBay. Also if you want to sell your products on your own platform and want to earn money from blogging, then you can use WooCommerce (WooCommerce is a WordPress plugin, that can provide you with all options to sell your physical and digital products online on your own site).
Direct Advertising on your blog.
Direct advertising is another and best method to earn money from blogging. You will earn the money from your blog's blank space. When you use an ads network to place ads on your blog, it will be less in your control to choose which advertising will show on your blog. It's all depends on the ad network's choices. 
But, if you find direct advertisers for your blog, all things will be in your hand that how much you will charge for the space. And how much space do you want to give them for their ads. 
And most importantly, if you sell your blank space with ad networks, like Google Ads and Media.net, they will take a part of the money actually the advertisers is paying, because they are finding the advertisers for your blog. Typically they charge 25% to 40%, depend on the platform and ads. 
But, if you take things into your hands, you will earn more money for the same ad space that you were selling with the 3rd party ad networks. 
Now, the time has gone when bloggers where rely only on Google Adsense. Now there are hundreds of methods available you can earn money from blogging. It's all depends on how you monetize your blog, how you deal with people, and how actually you are serious about earn money from blogging. 
So, go ahead and take the first step now, and soon your bank balance will start increasing. 
Hope, for your best and successful blogging journey. 
Thanks for reading the article about earn money from blogging. 
If you want to start your blog, the cheapest hosting I'm using is this ….. Click here…