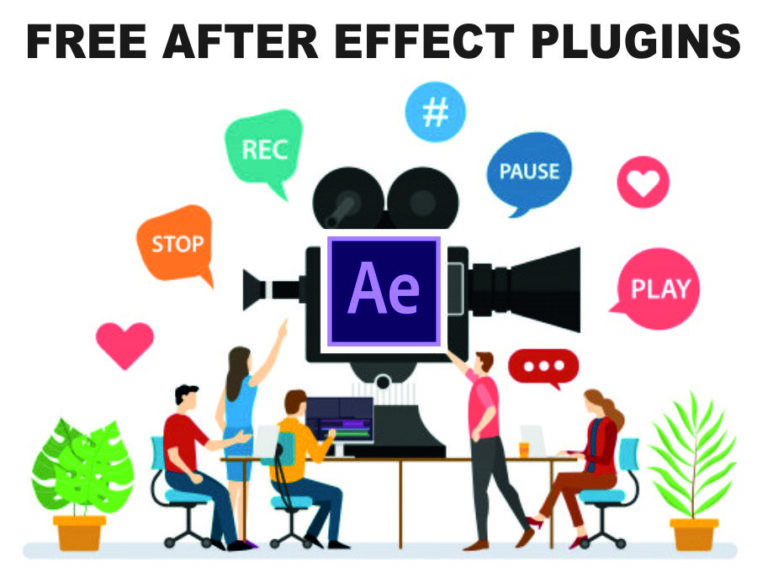 5 Best and Free After Effects Plugins
Hi, I brought to you today free After effect plugins available, for your use if you are currently unable to purchase paid plugins.
After 6 years of hard penance in the relevant field, some inner knowledge has been gained, today the time is more for moving pictures rather than static images, and this is the reason that the field of video editing is flourishing very well.
Whether you are in the field of graphic design or in the field of video editing, animation, motion graphic or visual effects, you must be using Adobe After Effects.
Adobe After Effects is a software that can handle your video editing work in a very professional way, but the way a person cannot do all the work alone, he needs his friends or workers, just like that One software cannot do all the work, it also needs its friends ie plugins.
So after a big effort, I have prepared a list which are available in Adobe After Effects plugins for free and you can use them for free and make your work easier.
As we all know, using Adobe After Effects plugins makes our video quality very easy as well as our work, but not all plugins are available to us for free, and that is why Many people do their work without plugins, because they cannot afford to buy the plugins.
Although paid plugins have their own specialties which we cannot get for free, yet free After Effects plugins can also make your work very easy and beautiful.
So let's see the best free After Effect plugins.
Normality is an After Effect Free Plugin, but equally powerful, it has proved to be a boon for "motion graphic artists".
Normality allows any 3d object or scene to be light directly in the After Effect without the help of the main 3d software.
To perform this normal work, many times artists may have to spend many hours of work if it is done without a plugin.
Because After Effects is commonly used for final work where 3d modeling and 3d scenes are created in related softwares, and it is very difficult to make changes once they are finalized.
But this small plugin is a boon, which saves the work of many hours by lighting the 3d object or 3d scene directly in the After Effect.
You can only know about the reliability and fame of this plugin that where it has been used?
Professional animation studios around the world such as CGCG STUDIO.inc, Pendulum, Studio Lampion, and Polygon Pictures have used this plugin in many of their animation projects and animation movies.
Apart from this, many films such as Walking with Dinosaurs 3D, Hitman: Absolution, A Night at the Cathedral, Frontlines: Fuel of War, Tomb Raider (2013), and in many more films have used this plugin, which tells us about its usefulness. 
And most importantly, these plugins are available for free.
For this reason, this plugin has been included in the list of best Free After Effect plugins.
You must have seen in many animation videos how rigging is done to animate objects, but they are all seen in 3d animation.
But here's something different, Duik is a plugin that will work for rigging objects in your 2D animation function, yes, heard right, and it also has all the options that a 3d animation can have for rigging, such as bones, IK, controllers, etc.
Although a lot of options have already been given in the After Effect so that the animator can do his work easily and do the animation, still Duik is many times better than all those options.
If you want to make a mark in the world of flat animation then Duik will prove very useful for you.
It has been tried in every way to make it easier for the animators, and in fact, it does.
Also, the specialty of Duik is that these are single click plugins, that is, you do not need to be very nervous to install and use them, they are very easily installed and started to be used.
Apart from this, these plugins do not add much weight to your computer, meaning they run well in low memory along with usage.
Duik is the most liked plugin in the list of free After Effect plugins. Once you use it, you will also surely like it.
Looking at Video CoPilot plugins in the list of After Effects plugins for free is a surprise, yes, you heard it right.
Just like Video CoPilot has a good reputation in making new and creative after effect plugins, also its plugins maintain a good price, due to which not everyone is able to buy their plugins.
But this time it is pleasant that the company has released a plugin for free, that too is of very good quality.
Saber is a very good lighting and effects plugin that is efficient in doing any kind of lighting and effects related work.
You can use Saber to create a beam, for which this plugin will make all your work easier.
Apart from this, this plugin is also able to work with layers mask and also this plugin comes with many types of presets, that is, your work is even easier.
So this best one in free after effect plugin that has been developed by a reputed company, so its quality cannot be doubted, but on the contrary, this plugin is very well tested.
So whenever you have any work related to light beam and effect, you must use this free After Effect plugin.
Ah, another great free after effect plugins.
If you are new in the field of animation, then this free plugin Animation Composer will be like a true friend for you, who will do almost all your work for free.
Yes, you will get great benefits in doing flat animation. Animation Composer has much professional motion presets that you can use conveniently in your project. And they are also very easy to use.
Adding animation presets is very easy to remove and you can complete your project in a few minutes.
Apart from this, Precomps prepared by professional animators are also available without royalty, in which animated titles, shapes, backgrounds, and illustrations are available.
Most notably, here you will also find a lot of sound effects to suit the animation. The sound effects are designed in a very professional manner, so they adjust to all kinds of motion effects. Also, you can change the pitch of the sound effects.
So if you are new to the world of animation, then this free after effect plugins is a boon for you, and if you are a professional animator, this free plugin will make your work many times easier.
Type Builder After Effects Plugin has special importance in doing tasks related to your text.
With the help of this free after effect plugin's, you can create animated typography very easily.
Within this, you will also get free preset, and also you can change the color of text, background, graphics, etc. in one click. It is a time-saver and useful plugin.
The feature of the type builder is that it not only works for the After Effect but also for Premiere Pro. You can also use this free After Effect plugin on premiere pro.
There is also a paid version of this plugin, named Typo King Pack. So if you are satisfied with its free version, then you can get an even better facility by spending money.
So these are our 5 best free After Effects plugins which took a lot of time to prepare because there are many free After Effects plugins, but they will all be just a burden on your computer because either you will not like to use them, or they will not be commonly used.