THE BEST STANDALONE DRAWING TABLET IN 2023
Disclosure: As an Amazon Associate ListenDesigner earn from qualifying purchases.
Hello, how it will feel that you're traveling in a bus or train, or you're in a restaurant or a coffee shop and want to monetize your free time by drawing or you want to finish your pending work at wherever you are, you can do it with a standalone drawing tablet, as the standalone drawing tablets don't need a computer to connect and work, as they are self computer. 
Also, it feels pleasant when you're on a train and drawing your imagination with a digital medium. So, the standalone drawing tablet is the most preferred choice for you if you want it. 
Also, with a standalone drawing tablet, you can work from your bed, in the kitchen, or in a garden, without the boring chair of the computer on the same desk every time.
Standalone drawing tablet can maximize your imagination and creativity because it gives you the freedom to working from different places.
Here is the list of the most preferred 4 standalone drawing tablets with sorted by their price. 
| SAMSUNG GALAXY TAB S3 | Apple Ipad Pro | Microsoft Surface Pro 7 | Wacom Mobile Studio Pro |
| --- | --- | --- | --- |
| 9.7-inch display | Fastest Response time Apple Pen | 12.3-inch large display | 15.6-inch Matte Display |
| Powerful Style | Long Battery Life | Powerful Intel Core Processor | Battery-Free Wacom Stylus |
| 4096 Pressure Level | 11 / 12.9-inch bright display | Window 10 inbuilt | All window apps support |
| Long Battery Life | Apple Pencil (Powerful stylus) | Powerful Surface Pen | Fully Standable |
| Better Palm Rejection | Ultra-Portable | Support all Desktop Softwares | Extra Shortcut Buttons |
| Check Price | Check Price | Check Price | Check Price |
The first choice of any artist who wants freedom of customizability with the Android version. Using Samsung Galaxy Tab S3 in the Android version is the most preferable and very similar experience like Apple iPad pro.
Samsung Galaxy Tab S3 can be stand in the front line of standalone drawing tablets by their features and reliable price compare to other tablets in this range.
When we see our current digital world, we can realize that Android has a separate fan base by its large collection of drawing apps that support the android version.
The tablet comes with a 9.7" display with 2048 x 1536 pixels resolution support 16M Colours. 
See all the features of the Samsung Galaxy Tab S3 standalone drawing tablet.
FANTASTIC 4 CORNER SOUND
BY QUAD-SPEAKERS
Samsung galaxy tab s3 is the standalone drawing tablet, so the stylus comes with a 4096 pressure sensor level with a 0.7 mm tip. Everything is fine here, but the response time of the stylus can slightly vary when you compare it with the iPad pro.  
13MP primary camera with flash LED, autofocus and 5MP front-facing camera 
Powerful Stylus with air Gesture support.
Display quality, resolution and color of the display can beat any other drawing tablet in this range.
Long Battery Life
Palm Rejection
Fantastic Sound Quality with four quad speakers
4GB RAM, 32GB internal memory expandable up    to 256GB and single nano SIM
Sometimes the tablet has heating problems when use it several hours. 
Only a few apps of drawing support the tilt function.
Honestly I say, there's no standalone drawing tablet that can beat the Apple Ipad Pro. Yes, it is awesome by its features. If we talk about smartphones, everyone knows that other companies' 24MP cameras can't capture photos like iPhone's 12MP camera. Also their speed, quality, display everything is amazing, and it happens again here. 
Ipad pro is the best standalone drawing tablet, in this 4 drawing tablet's list. If you want an honest review that what you should buy? then click here. 
It is the best choice for your needs. Yes, everything has its pros and cons, also iPad pro have their cons, but it is amazing by its quality. 
The Ipad Pro comes with the stylus of Apple Pencil, and alone Apple pencil has a lot of fans by it's fastest response time other than any stylus in the market. 
So, Ipad pro has one most amazing thing is that it comes with apple pencil. 
Apple Pencil's response time is too fast as 7ms, which can draw in real-time, while some other standalone drawing tablets have issues of response time, which take a few milliseconds more to appear on the screen, which feels the tablet slow. 
See the all features of the Ipad Pro as a standalone drawing tablet.
Powerful Stylus (Apple Pencil)
Long Battery Life
Palm Rejection
Fastest Response Time
Powerful CPU and compact tablet
Some people can't comfortable with apple pencil as it is thin for long drawing hours.
apple pen needs to charge.
The pen needs to purchase separately.
If you wanna use a laptop with a touchscreen, then Microsoft surface pro 7 is the best choice for you. As it is like that your desktop or laptop comes in a tablet form, where you can run all of your desktop applications in it. 
Microsoft surface pro 7 is the only portable standalone drawing tablet, which is a combination of desktop and tablet.
The screen size of the tablet is 12.3 inch that is enough sufficient to carry it anywhere and also good enough to draw on it. 
Instead of only stylus, it has touch support also, so you can easily handle your software with the touch of your fingers for rotate, zoom or scroll the canvas.
The features of the Microsoft surface pro are awesome, like Powerful Intel Core Processor, Long Battery Life up to 10.5 hours and window 10 home pre-installed, also you can switch from window 10 home to pro in just 99$ for additional enterprise management and security tools. 
So, if you're free by budget, then Microsoft surface pro 7 can be your standalone drawing tablet.
The surface pen is supported by Microsoft surface pro 7. But, if you're planning to buy the tablet, then you have to buy the pen separately, as it does not come with the tablet. Check Price of the Pen click here.
The pen is well work with the tablet, with great response time and pressure sensitivity. With the Microsoft surface pro 7 tablet, and Surface Pen combination, the drawing experience can be excellent for anyone. 
Also, if you're traveling, then there's no burden that you have to handle the pen separately, because the pen has an inbuilt magnet that holds the pen to the side of the tablet. 
So, the tablet is a premium quality standalone drawing tablet, with great writing and drawing experience. 
Large Display
Powerful Intel Core Processor
Kickstand inbuilt
Supports all desktop software
Window 10 Home Version inbuilt
The pen needs to purchase separately.
Low battery life than surface pro 6.
When the time is for drawing tablets, then how can we forget the Wacom. Wacom mobile studio pro is completely dedicated to artists, but it is extremely costly than any other standalone drawing tablet, but the tablet has impressive features, with ultra HD 4k resolution display 2560×1440 pixels, more shortcut buttons, touch ring. It also supports Wacom express key remote that is a bunch of 17 additional shortcut buttons for completely easy work.
This tablet is available in two sizes so you can choose in which you can be comfortable. 
Wacom mobile studio pro is not only a standalone drawing tablet, it is a powerful computer that can use for 3d modeling and rendering, animation, video editing and rendering, drawing with more complex work without hesitation of lagging. 
It is a true friend and supporter of any artist to expend his creativity in the real world.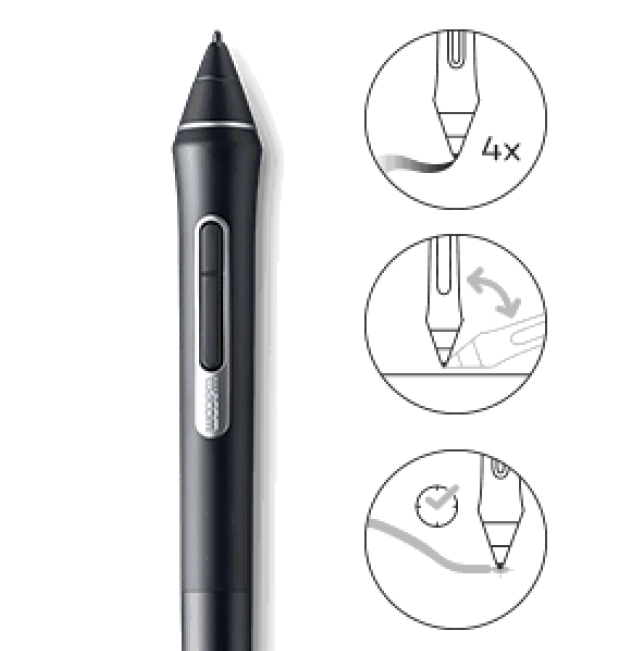 The charging or battery-free Wacom pro pen 2 is known for its pressure and tilt sensitivity. This awesome pen with an awesome drawing tablet can create awesome art. 
There's not a single complaint about Wacom pro pen, as the feeling of the drawing with Wacom pro pen is a real pen and paper. 
Wacom mobile studio pro has 8 shortcut buttons on its tablet, that you can program to any shortcut function in the software. Plus, there's a multipurpose ring in the middle of the shortcut buttons for complex tasks, like changing the brush size. 
Also, you can buy a Wacom express key remote, that is a bunch of 17 additional shortcut buttons, after attaching it, you don't need to do any work directly, as every option and function can be handled by the shortcut buttons. 
As, the Wacom mobile studio pro is a really professional standalone drawing tablet, with its high-end features that can beat any desktop computer. 
Matte display that stops reflections.
Battery-Free Wacom stylus (Best in market)
Windows 10 supports all software.
Powerful processor can do 3d modeling and rendering lag-free.
Low Battery Life.
Charging speed also slow.
It should be a touchscreen also.