HOW TO CREATE A GIG ON FIVERR? The Definitive Guide (2019)
Today I'm going to show you how to create a Gig on Fiverr, that gets :
Millions of impressions, 
Thousands of clicks, 
And hundreds of Clients.
CHAPTER 1
Find a Profitable Niche
CHAPTER 2
Write an attractive Title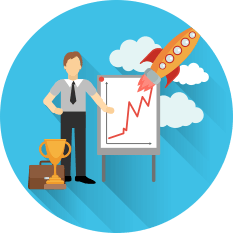 CHAPTER 3
Price and Description of your Gig
CHAPTER 1
Find a Profitable Niche

Only creating a Gig will not give you clients if your client doesn't have any purchasing intention. 
So now, how you will get to know what things people are eager to purchase?
Use this 5 Simple Step by Step Guide to solve these strategies.
The easiest way to find for things people are paying is "self Fiverr".
Switch to Fiverr buy, these facilities make Fiverr in my favorite freelancing site's list.
You can easily switch between selling and purchasing with the same account. Just click on Fiverr Buying and that's all, you will be on the page with the people who are buying services on Fiverr.
Fiverr is the place where you can sell and buy together at the same time. Many people on Fiverr don't do any single work on their computer, they just create Gig and sell Gigs.
"In easy words, let assume you are created a Gig of giving logo design services, you are working on Fiverr more than 3-4 years and now your rating is high, so your gigs are showing on Fiverr's top searches, where you get clients of logo design charges in $20, now you will give this work to other freelancers on Fiverr who does this work with same quality of work and in less price like $10, and you will earn $10 without doing anything."
But do not think too much about this method when you are new on Fiverr, you have to create a Gig for your own work. You are learning here how to create a gig on Fiverr, so the first step of creating a gig is having a profitable niche.
To find a profitable niche, you can find the niche on self Fiverr by just switching from Sell to Buy. You can search Gig by category or you can search by keywords in which you are good and can give high-quality professional services.

For example, lets you are good at doing SEO to became the website google friendly, but you don't know how to serve your service on Fiverr, and how to create a Gig on Fiverr about your services. You have to first find that is your services are well searched and well paid, search in Fiverr search bar as shown in the following images. 
scroll down, scroll down and research well about your niche that how much you can charge, and how many orders someone gets on their Gig.
Now search with Different niche in which you can also give a professional service, like if you're good in graphic designing and you can Do a logo design for your client.
Search with Logo Design, scroll and scroll, find proper page and see notice the main things, how much average price for a logo design along with all searches, and you will find that the highest price within available result is something else  $450, and the minimum is $5, also how many clients 5 rated designer get on his Gig, something 150-200. 
Cool! Now you can compare the both services in which you are good and in which you can earn more clients with more money. As compared here, you can see people charge more for doing SEO compared to Logo Design, also clients are quite more in SEO search instead of Logo Design. No whte final decision that SEO is high in demand and paying more money rather then logo Design. 
You can also compare the total time you have to give to a order in SEO or Logo design, and which service is more reliable and suitable for you.
More than 3.5 million posts are published each day, and definitely you will get the post on google which you want. Just search on Google  Profitable Gigs niche on Fiverr and you will get thousands of blogs that are well researched and well explained. 
Google will definitely help you to find the most profitable niche in your learning journey of How to create a Gig on Fiverr.
Other Freelancing Platforms
Fiverr is a freelancer's platform where freelancers are giving their services from the smallest amount of $5. You can search on other freelancing platforms like Upwork, Freelancers, Guru and can get ideas about the niche for which people pay a lot of money, and you can create a gig on Fiverr.

CHAPTER 2
Write an Attractive Title
Category, MetaData & Search Tags
The Title is the first impression of any Gig on Fiverr, while people are searching within gigs and suddenly find your gigs with a catchy title, definitely, they will click on your Gig.
Nobody will click on your boring title within the thousand of the search results on Fiverr, if you don't have a catchy title, you will not get any client.
Create a simple, eye-catching and SEO friendly title on Fiverr to get your client easily. 
You have to include these main points in your Fiverr Gig title to create your gig viral on Fiverr.
1. Make your Gig Unique – Most of the great sellers on Fiverr use the same keywords, you can use the different titles but with the same SEO competitive keywords will make your Gig easily visible at top of Fiverr Search result. 
2. Keep it short and simple – Nobody will read your long title by clicking on your Gig, your short, simple and directly indicative title to your service will give your gig a professional look.
3. Use keywords – Use popular Gigs keywords in your title to make your Gig SEO friendly on Fiverr.  You can see in this screenshot that almost everyone used the keyword "Wordpress Website" in their gig tile to make it visible on the search result. You also have to add the keyword in the title. 
4. Make your title Seo Friendly. Your gig title in Fiverr will be permalink of your gig, and permalink is directly affect the SEO at everywhere whether it is a google search or Fiverr search. So always use the primary keywords in your title so the gig will be visible in Search result. 
What includes in your Title of the Fiverr Gig?
You are on this post because you wanna learn how to create a gig on Fiverr?, and so, creating a Gig on Fiverr is not much hard, but the most challenging task is having clients on the gig you are creating. Make your title more attractive and visible in the crowd of gigs on Fiverr by including these points in your Fiverr Gig.
Make it Simple: Yes, simple titles are best for getting clients on Fiverr, don't go with a complex title in which the reader has to take a minute to understand what you do in the gig.
Don't make Grammar Mistakes: Grammar mistakes can impact your gigs negative effect by the readers, always try to do your best in writing title so you don't leave grammatical mistakes. 
Keywords: Including keyword in your title will make it easy to find for people in Fiverr Search. Include one or two keywords that directly refer to your services. 
Use CAPITAL words: You can use one or two words of your gig title in capital to highlight them to easily reading in one time by people. 
How to create your Fiverr Gig Title?
Your question at starting was – How to create a Gig on Fiverr? But, the question changed here to "How to create Fiverr Gig Title?"
Millions of gigs are already published on Fiverr, you have to just find them and get the ideas from them. Also, there're many other places where you can get your ideas, to be unique and different on Fiverr from others.
The title with 5 to 8 words (without "I will") engage more buyers than long titles.
The only word that describes your complete work process should be in CAPITAL, to increase the attention of the viewers. Capital words are more attractive if they are used in some small letter sentence. 
Never use Less Productive Words 
Less productive words are like "cheap rates, low budget" etc. You don't need to show the buyer that you are doing the work in more cheap rate, Fiverr is already the inexpensive freelancing platform, you should not have to waste your limited word's title.  
You and I are the words that feel like a conversation between readers and you, always use this word in your gig to engage deeply with your clients with your first presentation. Use your gig title like "I will do the creative logo design for you". That always works.
Category and MetaData
(Solved : How to create a gig on Fiverr)
Gig category and metadata can be a hidden reason for NO CLIENTS on your gig. If you did everything right but became quite lazy in providing a proper category for your Gig. Fiverr completely works on programmed computers, they will don't understand what you actually provide the clients. 
Categories and Metadata will help Fiverr bots to understand your gig. 
Search tags are like Fiverr's  #hashtag, this will affect on Fiverr search result and your gig will show in search result if you are used the search tag that is searched by someone. 
Fiverr allows for 5 search tags, don't use fewer search tags in your Fiverr gig.
Use all of 5 Search Tags.
Try to Include all categories related to your gig in Search Tag.
Use popular keywords in your Search Tags.
CHAPTER 3
PRICING AND DESCRIPTION OF YOUR GIG
Do you want to learn how to create a gig on Fiverr? Then First decide the price for your Gig.
Gig Topic? Checked
Title and tags? Checked
Now it's time to create a price list for your Gig 
How?
Determining how much to charge?
The determining price of your gig is the challenging part in the process of learning how to create a gig on Fiverr. 
How to set up the Price for your Gig?
First, decide the service you are providing can be in different packages? If not? you can change the 3 packages button from green to gray and close the package system then decide a unique price for your services. 
If your services have a package system, on Fiverr, you can set up your gig price in 3 packages. 
1. Basic  2. Standard   3. Premium
1. Basic:
Basic is the lowest package of your Gig.
Clients can pay a minimum charge to get the service.
Less time consuming
Easy to create
Mostly orders on Fiverr you will get is basic plans
2. Standard:
Standard is the medium package of your Gig.
Clients can pay average charges to get the service.
Proper time consuming
Moderate to create
The serious buyers will use your standard plan to get some good stuff.
3. Premium:
Premium is the highest package of your Gig.
High paying clients
The most time consuming to satisfy your clients.
Fewer buyers will willing to pay for premium packages. (If you are new seller, you will not get any order of your premium package)
The description is everything about your Gig. Before writing a gig description, you can get ideas from the top-rated sellers that how they describe everything in the description of their gig. After that, you can start to write your gig easily. 
The 4 things should be included in every Fiverr gig –
1. Welcome
2. About the gig
3. About You
4. Conclusion
Add the 4 things in your gig descriptions, then add Requirements. Requirements are things you need by your client to complete the project like if you're doing logo design, you can add "Company Name, Logo Style and Theme" in your requirement field, so the client will available all requirements to you to complete his project.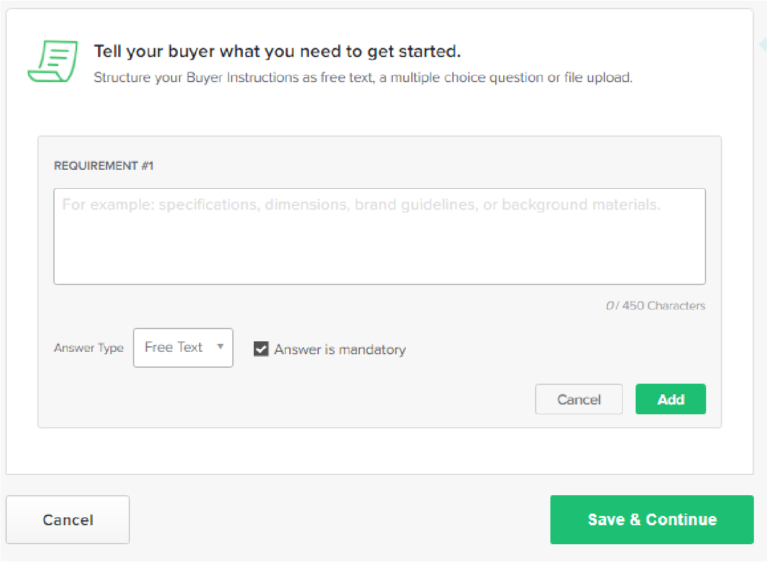 Upload Gig Gallery Photos, gallery photos will show in your gig images, you can upload up to 3 photos in your Gig Gallery, then as you complete your client's order, their completed project work will show in your gig gallery images themself. 
Upload the best work on your Gallery photos. 
The next and final step in the learning process of how to create a gig on Fiverr is publishing your gig. That's it. 
Don't think too much, just publish your gig and wait for the email like this.