How Graphic Designers Making their Money in Graphic Design Career
This is the most common question being asked to Google every day.
To become graphic designer you have to learn many tools but also if you didn't learn how to market yourself, you will can't success in this field, and this is the only reason there are a lot of people are against to make career in graphic designing because they don't know how and where to earn money in this area of business.
Graphic Design is the most creative and profitable but also the most competitive market nowadays. Not every designer is earning enough to survive, that's true, but it doesn't mean that every graphic designer is underpaid.

Almost, every graphic designer is earn online. So you have to learn at least every tools that graphic designers are using to earn money online.
FREELANCING:
If you are a designer, then find the people who need your skills, fulfill their needs, and charge them for your services. This is freelancing and freelancers are called as Self Employed. 
"Freelance workers are sometimes represented by a company or a temporary agency that resells freelance labor to clients; others work independently or use professional associations or websites to get work." -Wikipedia
Freelancing is the most common and the most effective way to earn money by Graphic Designer. The reason behind becoming freelancing popular between designers is getting clients from around the world, which can't be possible in a job. Freelancing presents designers worldwide and gives a global platform to their creativity. 
– How Much you can earn by freelancing? –
There is no exact answer is for this question. An average graphic designer can charge from 10$ to 30$ per hour as freelancing but depends on the project and experience of the designer. 
There are a lot of designers they charge more than 60$ per hour, but their work experience and qualities are really fantastic. 
So it can be said that a freelance designer has no income limit, it can be negligible, and can be excessive. The minimum freelancing fees of a graphic designer are 5$ and the maximum is 80$ and can be more. 
MasterBundles is a marketplace for graphic designers of different levels who want to monetize their designs. The platform is quite large, so you can find variations of different product categories that will please everyone. You can buy and sell your graphics, fonts, textures, clipart and patterns, website templates, prints, stock photos and videos, resume, WordPress themes, and presentation templates. 
MasterBundles also has many other advantages, such as low commission for vendors, constant product updates, a blog, and promotion of unique designs with the help of a newsletter and various selections. An ideal option for any designer. To sell your graphic design, you, as a designer, have to fill out the form and that's it.
– Best freelancing sites for Designers
As soon as you have decided to choose to freelance, you must know how you can get freelancing work. There are dozens of freelance sites are active on the internet that provides a platform to meet clients and designers each other and in return, they take their commission from each completed project.
Upwork is the largest freelance marketplace in the world with a total of 1 billion (1,000,000,000 )$ jobs posting annually. Upwork was rebuild in 2015 by merging the two greatest graphic design sites oDesk and Elance. 
This is the greatest platform for graphic designers to find their freelance works. On this site, designers can work on large and quality projects. Proper resources to communicating with clients, style that meeting the requirements of the project, proper and secure system of payment, and the minimum commission, makes this site the most distinct and in the first place.
Fiverr is known by its name, as the smallest jobs are posted on Fiverr is up to 5$. This is the first choice of a fresher graphic designer, you can post your latest work on it by making gigs, and then just post three levels of your designs (Basic, Pro, and Premium) with different charges. Basically, the minimum earning of per job is 5$, and you get 4$ in your hand, the 1$ take by Fiverr to provide the platform. 
So this website is good if you are new in graphic designing, but as you gain your experience and work knowledge, you should change your platform to other sites, because many experienced graphic designers are hate Fiverr because its 5$ gigs reduce the real price of designing. 
Freelancer is again a good choice for designers Where projects are posted by the customer, and designers bid on projects at their choice. So, when the client find your portfolio and your bid interested, he will give the work to you. 
This website is like eBay where the seller uploads their items on the site, and buyers bid, here is its reverse, the buyer (the client) update their project, and seller (designers) bid to get the work. 
This website is good for the designers because they can decide their rates separately on every project. 
This is the great choice to serve your work under your own brand name. Just create a website with your own name, upload your work on the site, make an awesome portfolio and publish your website. 
When you share your portfolio link with YourName.com, your customers find it more reliable.  Having own website is increase your respect and stands out you from the competition era.  
Frelancing's Advantage & Disadvantages
As we all know everything has two aspects, good and bad. Likewise, freelancing has also many advantages and disadvantages, so before choosing any scenario blindly, you have to weigh the pros & cons of freelancing. 
Advantages of Freelancing : 
1. Boss Free life. No need to explain life, without the boss. 
2. Possibility of earning unlimited income.
3. Self-dependent routine, with the freedom to choose your own working hours
4. Get rid of drowning salary by the end of the month.
5. No need to learn office politics to stay in office.
6. Get rid of the headache of annual performance.
7. Projects of your choice.
Disadvantages of Freelancing : 
1. Income volatility
2. Staying 24×7 alert to get customers
3. Answerability of many customers instead of one boss
4. Falling short of meeting with new people
5. Facing heavy competition
6. Irregular routine
Selling Digital Files Online
The flag of the deadline is always waving with any design project. So graphic designers always want to save their time so that they can submit their work before time. That's why they always want something that can download online, to save their valuable time from making these things. 
Selling downloadable files online is not only the first choice of designers, whereas writers, bloggers, webmasters, 3d artists, and many others are also selling their digital files online and earn money. 
Digital selling is the most flexible work you can do in your design career, just make whatever you love. No needs to hear the client's opinion. make what you love, upload files online and interested people will find you and purchase your files.  
Now if you are interested in selling digital files online. You can start with the sites which really work well.  
Top 3 websites to sell digital files online –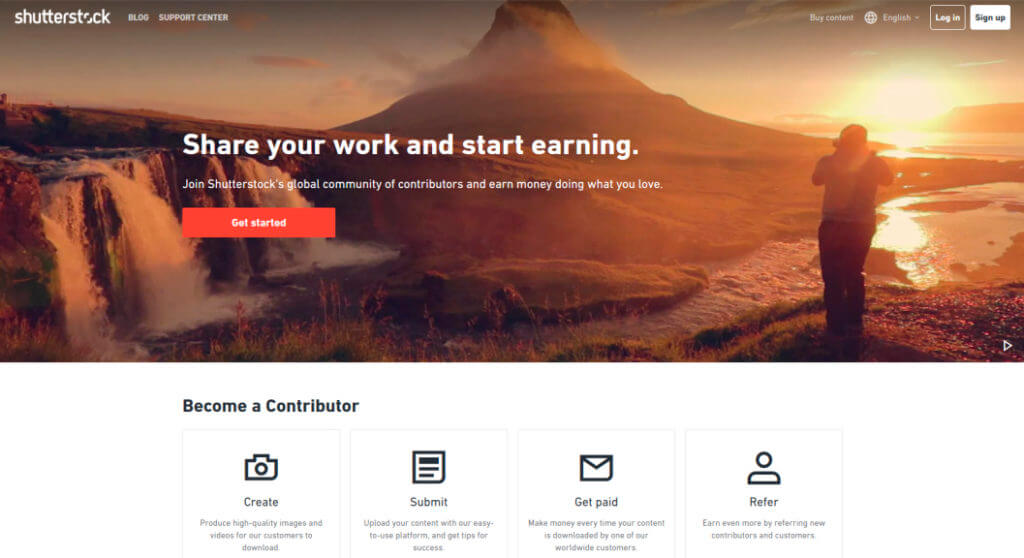 As I personally love this site, Shutterstock is at the one number to sell online for graphic designers. If you are really good in photography along with designing, you can buy a good camera in budget and start photoshoot, also you can sale vector stock on Shutterstock. Vectorstock has 250% more downloads than photos. You have to create vectors and upload them on Shutterstock. You don't need to worry about publishing and advertising your content, this all work will be done by Shutterstock. As I personally said, when I was started my vectors uploading on Shutterstock, my first sale had come just after only 24 hours of uploading 3 vectors. 
How much you can earn on Shutterstock – This question has to vary answers, but if you're really passionate and can create great content, believe me, Shutterstock will not hurt you. My monthly sales on Shutterstock is 150-180 vectors, and Shutterstock pay per download 0.25 cents from subscription (almost 90% sale is from subscriptions), so my monthly earning is likewise 37 to 40$, this is not a good income, but I have a small portfolio on Shutterstock, so this is a good sale than what I have. 
2. istockphoto (Getty Images) –  
istockphoto is owned by Gettyimages. They have a large database of stock photos since it merged with the Getty image.They pay little more from Shutterstock and can be a good choice if you have quality content that sale, but for selling stock vector is quite less profitable because they don't have separate vector-categories, and have still vectors sources under illustration categories. So you can't get enough sales with your vector sources. I was started selling on istockphoto in 2014 and switched to Shutterstock in 2018. 
So, choose istockphoto if you have a full-time job or other work and want to work part-time, this can be helpful because with other agencies you have to also maintain quantity with quality and here you have to just give importance to quality. 
On other stock agencies like Shutterstock, you need a minimum 2000 to 5000 uploads to earn a decent income from them, but on istockphoto, you can start with 500 to 2000 high-quality uploads. 
Adobe stock is another level digital selling platform providing stock photos from 2015, so adobe stock is the youngest stock photo agency offered by Adobe. 
Overview : 

1. Largest collection stock image agency in the world 

2. Inbuilt features like watermark preview and one-click license for approved images.

3. Owned by Adobe

4. Included 3d contents in it make it different from other platforms. 

5. Merged with Fotolia and became the largest collection in less time.
How much Adobe Stock pays to contributors : 
On Adobe Stock, royalties are calculating in credits, as 1 Credit = 1USD
Also adobe stock calculate their license in five terms
1. 3 Standard Assets per month : Royalty $3.30
2. Small Subscription: Royalty $0.99 -$1.65
3. Medium Subscritpion: Royalty : The minimum payment made
4. Credit Packs: Royalty  $3.30
for fully details, you can visit here.
Other stocksites, that also works nice : 
Pros & Cons of Selling Vector Files Online:
Advantage : 
Utilization of free time
Having good practice in designing.
having the main or other sources of income. 
Steady income
Create one time, sale multi time
Having a good portfolio.
Disadvantages : 
When started uploading, it is really time-consuming to reach a good level.
When create good stuff using your valuable time, and being troubled by rejection
Not having sales as expected before starting.
Long term process, to reach the level, and a few people have this level of patience.
Participate in Designing Contest
As seems the name, the design competition is a competition between designers, in which the designer will be the winner, whose design satisfies the customer. The winning designer gets the fixed amount of prize money which was declared by the client before starting the contest. 
In any design contest, the winning prize is always a nice amount, but the competition also is very tough to win a design contest. You have to participate in many contests in a single time to increase the chance of winning. 
The design contest is held by many contest sites online, and you can choose your field of interest in that, like if you love to logo design, then you can search a logo design contest and can participate in that. If the client will love your design, and choose your design as their logo, you will get full money of the prize.
Websites that held the design contests :
Designhill is the most trusted website to participate in contest. Trusted by millions and satisfied. Designhill has many clients with thousands of finished contest and every day many contest are started on this. So you can try on Designhill. Work hard, understand the needs of the client and fulfill that, win the contest and get your money. 
As every graphic designer's first choice, 99 design is a great marketplace for designers. 99designs also holds a design contest with many other services, so you can become a graphic design contributor, freelancer and also can fight the contest. The winning prize will be delivered in your account. 
Designcontest ranked #1 on google, so the quality cannot be bad when google select something on their first page. There are thousands of graphic designers are participate in the competition on Designcontest, as there is no need to verify yourself to submit your design, so the easiest process to fight competition. They didn't ask you to verify your ID until you win the competition. So just try always on this website, before going to another place.
Pros & Cons of Participating in Graphic Design Contest : 
Participating in a graphic design contest can be a nice experience, but like everything, design contests have also many advantages & disadvantages. 
Pros of Graphic Design contest : 
1. Chance to win a huge amount of money, if you win the contest.
2. Increasing the ability to read the needs of the client. 
3. Easy to participate. 
4. Sharping the skill of designing, as many talented graphic designers come on one stage to perform, so you can sharpen your skill in designing.
Cons of Graphic Design Contest : 
1. Very hard to win any contest, and if you are beginner, this is almost impossible to make exactly what the client wants.
2. Easy to participate, but difficult to being selected.
3. The revisions that the client wants after selecting designs, also irritate sometimes. 
4. Sometimes, this is wasting your valuable time. 
DOING GRAPHIC DESIGNER JOB – 
Doing a graphic designer job can be a great experience if you want a fixed routine life (sometimes sucks) and don't want the everyday headache of finding clients and finding works. If you are starting a job of a graphic designer, many advantages you can find in it, like fixed salary, fixed routine, allowance and the main benefits of a job is you will find yourself busy the whole day with meeting new people. 
If you are good at finding the client's intentions easily and solving their visual problems in less time then the graphic designer job will be perfectly suited for your personality. 
So if you're ready and finally decided to do the job of a graphic designer in a company, then knowing about these main points before applying for any job can be a bit beneficial.
How you can get the job of Graphic Designer easily: 
Finding a job of the graphic designer is not easy if you are fresher. So before applying for the job, prepare yourself completely so that you can avoid rejections.
A strong portfolio is the one thing that will play the most important role in getting you a job. Make a portfolio with the latest and nice work you have ever done, if you are fresher and didn't get any work before, you can create anything your own choice (but splendid design) and put that into your portfolio. which can determine your design skill. 
You can make your portfolio online using these top 3 popular sites, whereas thousands of graphic designers have already maintained their beautiful portfolio: 
1. WIX :  
A perfect website, with thousands of stylish templates, that makes your work more beautiful and flexible to engage your viewers and clients. 
2. Behance :  
A website, owned by adobe. Attracts millions of people worldwide to their portfolio website. Most designers around the world do their work at Adobe Products, so Behance is the perfect place where you can easily upload your artwork through Creative Cloud.
3. Dribbble : 
Dribbble is the website, where designers visit daily to get inspiration for his new project, every client visit to get an idea for his product design, and almost every graphic designer may have his account on Dribbble where he is uploading his work. 
On Dribbble, designers upload small screenshots of their work, which making search results quite easy and accurate for clients.
Get a Degree from reputed Institute: 
If you are really serious about your work, then you must get a graphic designer degree. It is not that you cannot succeed in this field without a degree, or you cannot get a job, but without a degree, your path will be difficult. Also, if you seriously want to accept the profession, and want to present yourself with good prestige in the field, then you will need it. A bachelor's degree will be work fine to get a graphic designer's job. Also, you can find many online courses, that provide better education with a valid degree in graphic designing, so you can put your designing qualification in your cv with your portfolio. 
So making a strong portfolio, with a bachelor's degree from good institute can help you to find your graphic designer's job. Apart from this, you also have to constantly search for the vacant position of the graphic designer, and keep applying to the appropriate company.
# Average Salary of Graphic Designer Countrywise  :
United Kingdom- £22,317
United States – $44,145
Thailand – THB 287,594
Germany – €31,014
India – Rs. 306,992
Pakistan – PkR. 228,000
Brazil – R$29,747
Phillippines – PHP 222,788
ChinaCNY – 134,997
Japan – ¥3,516,827
Conclusion:
Graphic Design is the field, where you're being paid for playing with colors, making patterns, designing posters, and making cartoons, these are the things that you were reprimanded for doing in school. So, if this is your career, let's enjoy the field, create yourself creatively, learn to see the world with another angle, make your own perspective where you can see the world decorative. 
Earning a passive income in graphic designing is quite difficult, but not impossible to reach the level, where you will be paid thousands of dollars monthly to decorate the world. 
There are some few steps to reach the level is : 
Get a degree 
Make Good Portfolio (even do free works)
Join graphic designers group
Learn the communication skill
Fight Design contests (to learn deeply in designing, and don't forget to see the result when the winner designs getting selected)
Join freelance websites, and keep trying to get works
Be patient [when don't get a single work, and even when client irritate you for changes again and again]