Top 3 Powerful & Best laptop for Adobe Illustrator
So, you're searching the best laptop for Adobe Illustrator, then you should stop here.
As I have already done a lot of research to find the best laptop for my graphic designing, while I always use Adobe Illustrator, So my first priority was to search for the best laptop for Adobe Illustrator so that I could work faster and more comfortably for my clients.
I have created a list of laptops that work very smoothly with Adobe Illustrator. Actually, any good laptop can work best with Adobe Illustrator, but the main problem hanged when we open multi-software while working like searching on the internet for ideas while working on a project, you may need to open Chrome or any other browser, sometimes you may have needed to start Adobe Photoshop for photo editing, you're getting bored, then started music in the background, so finding the best laptop for Adobe Illustrator only is not enough, the laptop that works fine with Adobe Illustrator and other software is the best laptop, on which you can create quality content with the fastest speed is our preference. 
So, before jumping to the list of the laptops, our main aim is using the Adobe Illustrator, so we have to see Adobe illustrator system requirements. 
Processor : Multicore Intel processor (with 64-bit support) or AMD Athlon 64 processor
Operating system : Microsoft Windows 7* (64-bit) with Service Pack 1 or Windows 10** (64-bit)
RAM : 8 GB of RAM (16 GB recommended)
Hard disk : 2 GB of available hard-disk space for installation; additional free space required during installation; SSD recommended
Monitor resolution : 1024 x 768 display (1920 x 1080 recommended)
To use Touch workspace in Illustrator, you must have a touch-screen-enabled tablet/monitor running Windows 10 (Microsoft Surface Pro 3 recommended).
GPU : OpenGL 4.x
Optional: To use GPU Performance: Your Windows should have a minimum of 1GB of VRAM (4 GB recommended), and your computer must support OpenGL version 4.0 or greater.
This is the minimum system requirement of any computer or laptop to run Adobe Illustrator. So, the conclusion is the laptop which has Multicore Intel 64 bit supporting processor, Microsoft window 7 or upper version, 2GB hard disk space needs to install the software, so the harddisk of minimum 500GB will be good to save all your artwork without storage shortage, 8 GB or more RAM, and a 1920×1080 pixels resolution monitor is good for better resolution. So these requirements keeping in mind, we're showing you the best laptop for Adobe Illustrator.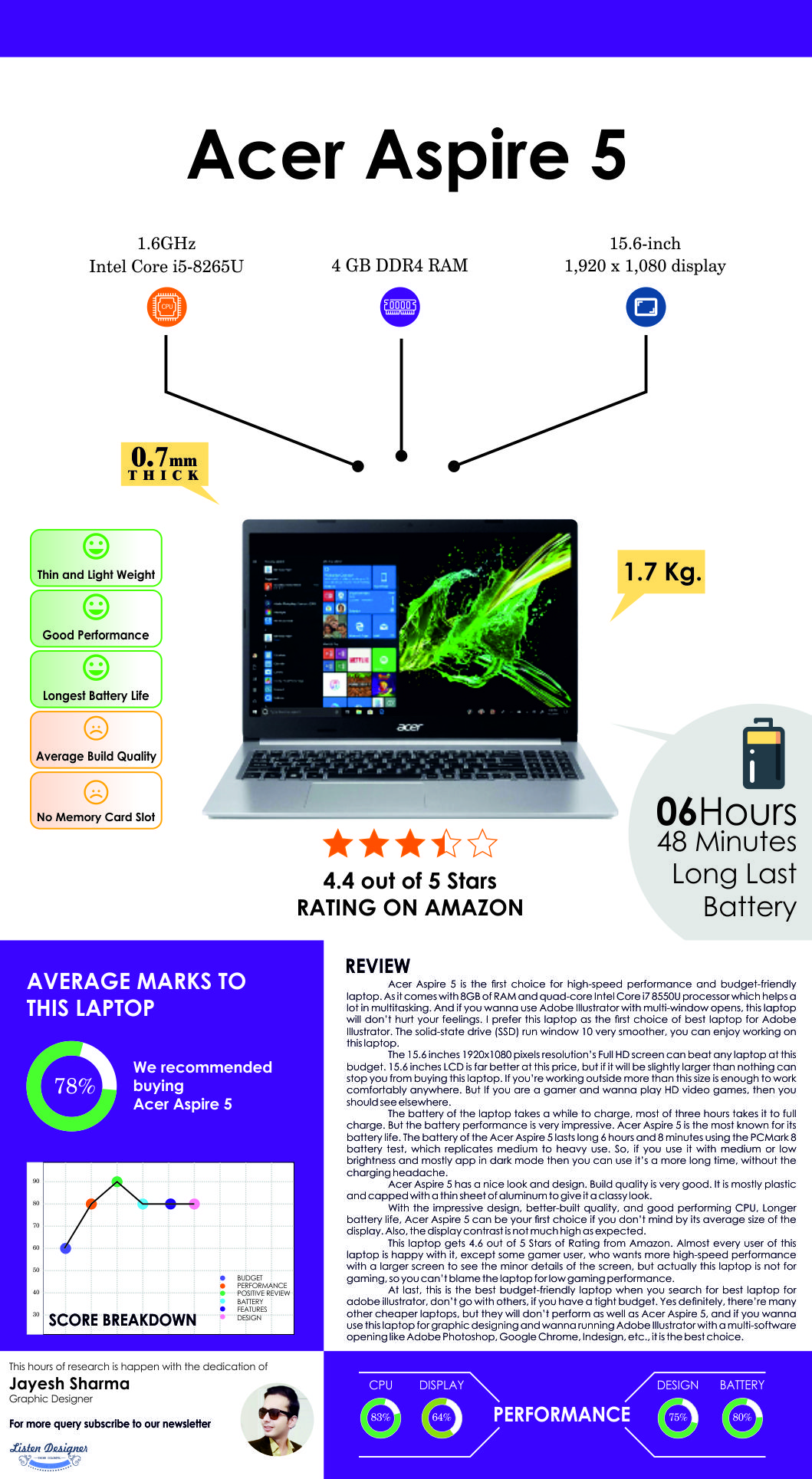 Performance: Acer Aspire 5 is the first choice for high-speed performance and budget-friendly laptop. As it comes with 4GB of RAM and quad-core Intel Core i5 8265U processor which helps a lot in multitasking. And if you wanna use Adobe Illustrator with multi-window opens, this laptop will don't hurt your feelings. I prefer this laptop as the first choice of best laptop for Adobe Illustrator. The solid-state drive (SSD) run window 10 very smoother, you can enjoy working on this laptop.
Display: The 15.6 inches 1920×1080 pixels resolution's Full HD screen can beat any laptop at this budget. 15.6 inches LCD is far better at this price, but if it will be slightly larger than nothing can stop you from buying this laptop. If you're working outside more than this size is enough to work comfortably anywhere. But If you are a gamer and wanna play HD video games, then you should see elsewhere.
Battery: The battery of the laptop takes a while to charge, most of three hours takes it to full charge. But the battery performance is very impressive. Acer Aspire 5 is the most known for its battery life. The battery of the Acer Aspire 5 lasts long 6 hours and 8 minutes using the PCMark 8 battery test, which replicates medium to heavy use. So, if you use it with medium or low brightness and mostly app in dark mode then you can use it's a more long time, without the charging headache.
Design: Acer Aspire 5 has a nice look and design. Build quality is very good. It is mostly plastic and capped with a thin sheet of aluminum to give it a classy look.
With the impressive design, better-built quality, and good performing CPU, Longer battery life, Acer Aspire 5 can be your first choice if you don't mind by its average size of the display. Also, the display contrast is not much high as expected.
Conclusion: This laptop gets 4.6 out of 5 Stars of Rating from Amazon. Almost every user of this laptop is happy with it, except some gamer user, who wants more high-speed performance with a larger screen to see the minor details of the screen, but actually this laptop is not for gaming, so you can't blame the laptop for low gaming performance.
At last, this is the best budget-friendly laptop when you search for best laptop for adobe illustrator, don't go with others, if you have a tight budget. Yes definitely, there're many other cheaper laptops, but they will don't perform as well as Acer Aspire 5, and if you wanna use this laptop for graphic designing and wanna running Adobe Illustrator with a multi-software opening like Adobe Photoshop, Google Chrome, Indesign, etc., it is the best choice.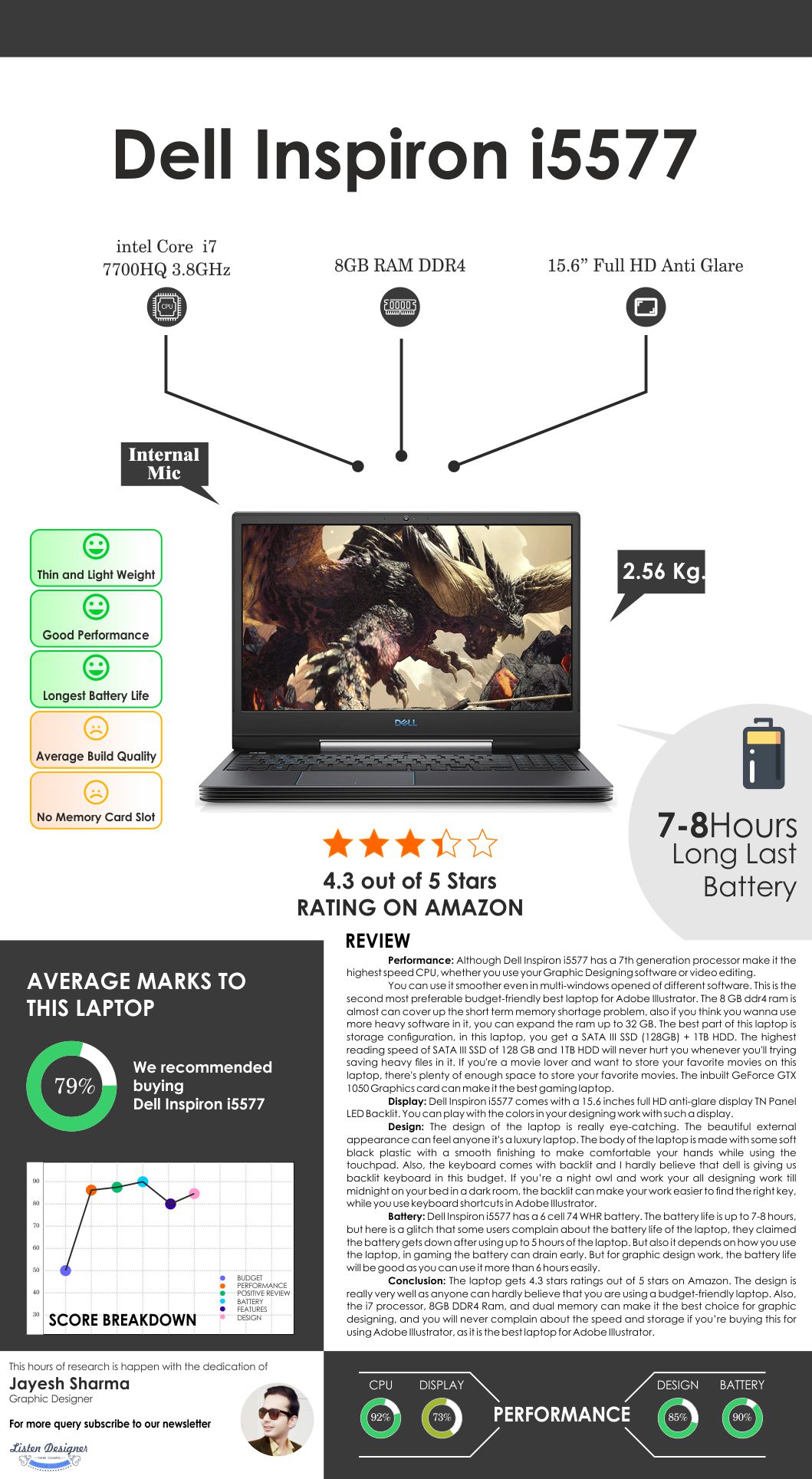 Performance: Although Dell Inspiron i5577 has a 7th generation processor make it the highest speed CPU, whether you use your Graphic Designing software or video editing. 
You can use it smoother even in multi-windows opened of different software. This is the second most preferable budget-friendly best laptop for Adobe Illustrator. The 8 GB ddr4 ram is almost can cover up the short term memory shortage problem, also if you think you wanna use more heavy software in it, you can expand the ram up to 32 GB. The best part of this laptop is storage configuration, in this laptop, you get a SATA III SSD (128GB) + 1TB HDD. The highest reading speed of SATA III SSD of 128 GB and 1TB HDD will never hurt you whenever you'll trying saving heavy files in it. If you're a movie lover and want to store your favorite movies on this laptop, there's plenty of enough space to store your favorite movies. The inbuilt GeForce GTX 1050 Graphics card can make it the best gaming laptop.
Display: Dell Inspiron i5577 comes with a 15.6 inches full HD anti-glare display TN Panel LED Backlit. You can play with the colors in your designing work with such a display.
Design: The design of the laptop is really eye-catching. The beautiful external appearance can feel anyone it's a luxury laptop. The body of the laptop is made with some soft black plastic with a smooth finishing to make comfortable your hands while using the touchpad. Also, the keyboard comes with backlit and I hardly believe that dell is giving us backlit keyboard in this budget. If you're a night owl and work your all designing work till midnight on your bed in a dark room, the backlit can make your work easier to find the right key, while you use keyboard shortcuts in Adobe Illustrator. 
Battery: Dell Inspiron i5577 has a 6 cell 74 WHR battery. The battery life is up to 7-8 hours, but here is a glitch that some users complain about the battery life of the laptop, they claimed the battery gets down after using up to 5 hours of the laptop. But also it depends on how you use the laptop, in gaming the battery can drain early. But for graphic design work, the battery life will be good as you can use it more than 6 hours easily. 
Conclusion: The laptop gets 4.3 stars ratings out of 5 stars on Amazon. The design is really very well as anyone can hardly believe that you are using a budget-friendly laptop. Also, the i7 processor, 8GB DDR4 Ram, and dual memory can make it the best choice for graphic designing, and you will never complain about the speed and storage if you're buying this for using Adobe Illustrator, as it is the best laptop for Adobe Illustrator. 
Performance: Apple doesn't need any introduction. As everyone knows Apple's products are in the highest demand in the world. So here, Apple Macbook Air can be in your hand if you want to buy the product for your graphic designing works, like running Adobe Illustrator, Photoshop, etc. 
Apple MacBook Air comes with 1.8GHz Intel Core i5 Processor, which is enough to run the Adobe Softwares smoothly. Apple Macbook Air is the perfect choice for any graphic designer. 
Some people complained that AppleMacbook Air is slow but it depends on how you use it, but it can run your Adobe software very smoothly, don't worry. So, Apple Macbook Air is in the list of the best laptop for Adobe Illustrator.
Display: Apple MacBook Air has 13-inch Retina Display with True Tone, and the Retina Display is the only thing I love so much, Apple's engineers know that human eye can detect up to 300 pixels per inch, so they increased the pixels to 326 in this display, that calls retina display, and the result is amazing. You will find very smooth and higher quality images with its 2560 x 1600 pixel display, perfect color shades, and everything is amazing with its display. You will love it as a graphic designer.
Design: There are zero complaints about design of the laptop, the strong and very slim aluminum case gives very beautiful look to your laptop and more safety even in a crowded place.
Battery: The company claims that the Apple Macbook Air battery life is about 12 hours of web browsing. But nobody only works web browsing straight 12 hours, so if you're mixing work on with browsing and designing, you will easily get the battery for up to 8 hours. That's not bad.
Conclusion: The laptop gets 4.4 stars ratings out of 5 stars on Amazon. The design, performance, and the budget, everything is ok with Apple Macbook Air. And so the final conclusion is if you really want a mac for your designing work, Apple Macbook Air is the best laptop for Adobe Illustrator, but if you are familiar with Windows operating system then you can go with Acer or Microsoft Surface as they are solid with this budget.